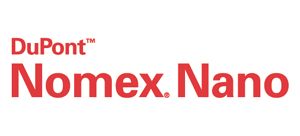 DuPont™ NOMEX® and KEVLAR® brand fibers are critical components of today's most advanced outer shells, moisture barriers, and thermal barriers, providing permanent flame and thermal resistance, strength, and proven durability.
DuPont™ NOMEX® NANO
What if a new technology were introduced that could help reduce heat stress, decrease the weight and bulk of your turnout gear, and help increase your mobility without compromising thermal protection?
It's here — NEW DuPont™ NOMEX® NANO.
Based on the NOMEX® brand that has been trusted by firefighters around the world for more than 50 years, NOMEX® NANO represents the next generation of flame-resistant (FR) solutions from DuPont. It was developed to address the growing problem of heat stress, which is now the cause of more firefighter injuries than any other single factor.
NOMEX® NANO is specifically engineered to be thinner than other advanced FR materials used for thermal liners. In fact, NOMEX® NANO may provide up to a 40% reduction in thermal liner thickness compared to other advanced liners available today, while providing similar thermal protective performance (TPP).
That means a thermal liner of NOMEX® NANO may reduce the weight and bulk of current turnout gear systems, helping to give firefighters increased mobility and a better range of motion. What's more, NOMEX® NANO features improved total heat loss (THL) compared to typical thermal liners with similar TPP, which helps reduce heat stress.
Another way that NOMEX® NANO can help reduce heat stress is by using superior moisture management. In laboratory tests comparing moisture absorption, the thermal liner made of NOMEX® NANO showed approximately 30% more absorption capacity compared to conventional thermal liners — with equivalent drying rates.
The bottom line? The next generation of firefighter protection is here — NOMEX® NANO.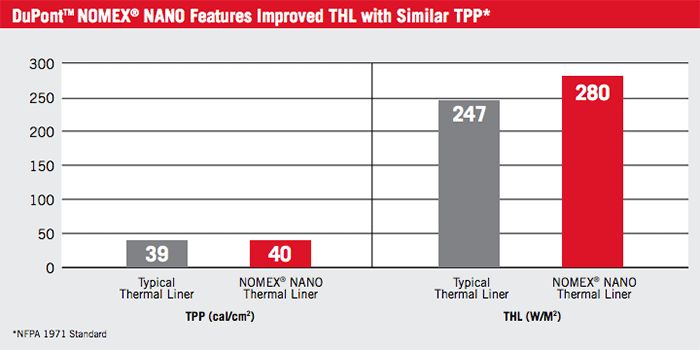 DuPont™ KEVLAR
DuPont™ KEVLAR® Filament Technology adds even higher strength, slickness, and flexibility to many of the latest turnout gear materials.
DuPont, Globe Donating 52 Sets of Firefighter Gear with DuPont™ NOMEX® and KEVLAR® Fiber Technologies.
DuPont Protection Technologies and Globe are again partnering and giving back to U.S. fire departments in need. Globe has partnered with DuPont and the National Volunteer Fire Council to donate 52 sets of gear in 2015 to deserving fire departments. The gear is made of DuPont™ NOMEX® and KEVLAR® fiber technologies.